The relations between Lithuania and Russia have been rather tense for a long time. And this tension started to grow after the decision taken in Vilnius to easily grant political asylum, practically, to all those who say they are allegedly persecuted in Russia by "Putin's authorities".
As early as in May 2017, Zakharova, spokesperson of the Russian Foreign Ministry, gave the following commentary on actions of the so-called non-systemic opposition:
"We haven't expected something different from the leaders of Lithuania, who have been openly pursuing a hostile course towards our country. We have paid attention to the fact that refuge is given only to political outcasts, and among these there are also persons that are under criminal investigation and put on a wanted list. According to our reckoning, it is in vain that the minister of foreign affairs has started patronizing this farce".
This being said, the Lithuanian president Gitanas Nauseda, as Lithuanian journalists and political analysts note, still refuses to meet the main begetters and sponsors of the Russian opposition – with Garry Kasparov and Mikhail Khodorkovsky. Although their representatives more than once have sounded out such a possibility. (For instance, Baltnews has said quite definitely: "In Vilnius, Gitanas Nausede refuses to meet fringe elements like Garry Kasparov or Mikhail Khodorkovsky…)
But, it was not to be: you chase such "fringe elements" from the door, they come through the window.
THE WEBSITE PRIGOVOR.RU HAS FOUND IN LITHUANIA "FUTURE RUSSIA FOUNDATION" BELONGING TO KHODORKOVSKY
It's precisely this way that can be estimated the creation in Lithuania Khodorkovsky's foundation "Future Russia" Future Russia Foundation, VšĮ. Contacts, map. Rekvizitai.lt (vz.lt) (recognized undesirable on the territory of the Russian Federation).
In fact, this is a Lithuanian affiliate of the British "Future of Russia Foundation" (recognized undesirable on the territory of the Russian Federation). Recently the website Prigovor.ru found out that the Lithuanian JSC "Future Russia Foundation" was officially registered only two and a half months ago, on June 14, 2021, and it has already 30 employees.
Moreover, the recruitment of "wild geese of information war" has been going on at an accelerating pace. So, when we on August 27 looked up the database, there were 27 persons in the Khodorkovsky's foundation, and at the time of writing – already 30.
According to the information from the official catalog of the Lithuanian enterprises Rekvizitai.Lt, their average wage amounts to 2436 euros.
I would like to remind you that Khodorkovsky began in May the dislocation of the workforce and means when he realized that all his safe houses in Russia had been compromised. On May 25, he himself dissolved the movement "Open Russia" (recognized as undesirable on the territory of the Russian Federation). But, as expected, he didn't sit on his hands. And, as now the website Prigovor.ru has found out, on June 14 he registered a new battle structure in Lithuania.
On June 15, several employees of "Open Media" were recognized as "foreign agents". On August 4, upon the request of the Office of the Prosecutor General, "Roskomnadzor" blocked the websites of "Open Media" and "MBKH media" because of the connections with organizations recognized as undesirable on the territory of Russia. On the next day, the employees of these "media outlets" said that they together with the investor decided to stop their work "as risks were too high". Moreover, in their message, it was pointed out that "Open media" allegedly "had never worked with undesirable entities".
But, they all fibbed in concert. Because they knew that in Lithuania there had been already prepared a reserved airport. In the Lithuanian foundation "Future Russia" the first employee was registered already on June 19.
POLITICAL ANALYST IN BIKINI
In general, Mikhail Khodorkovsky has selected for himself an indicative team. Its director has become Irena Lapinskine. Until recently, she was not noticed in politics. She is itemized as director of several JSCs – one of which provides consulting services, the second prepares for small firms accounting statements and resolves issues with tax agencies as well as helps to register various enterprises and foundations.
But, according to Lithuanian colleagues, she is most of all fascinated with sauces of the Lithuanian company Buga LT (bugas.Lt): adjika sauce, sweet chili, sauces "Chutney" from onion and kernels of pomegranate, from mango, and tropical. They say that these sauces do not contain gluten and genetically modified organisms. It is worth noting that employees of all other firms where Irena is director receive considerably lower salaries. For example, in those that sell sauces, it is, on average, 1616 euros. She is also the director in Buga LT.
Most likely, Irena would have continued to sell sauces and prepare, had she not engaged a year ago in "civic relations" with the man of her dream – with Imantas Lapinskas.
Imantas is also registered as head of several companies which deal with advertising and organizing of various events, including political.
But, behind all this frenzied activity stands the brother of Imantas – Mindaugas who now identifies himself as a political analyst, consultant of civil officers, and political leaders.
Mr. Mindaugas Lapinskas has tried a real bunch of professions – he dreamed to be a rock musician, but then decided to study law in order to create a solid support in life. He worked as an advertising agent, copywriter, journalist, became a popular radio presenter, on Lithuanian television, he comments as near as all high-profile events. Besides, he is a biker, fashionable, influential person, permanent hero of society columns.
In the pages of glossy magazines, he appears with his second wife – long-legged blonde Justin Lapinske who prefers to be called maidenlike Juste.
The political spin technologies of Khodorkovsky. Photo from Instagram of Mindaugas Lapinskas (@mindaugas lapinscas)
Juste has a popular in Lithuania account on Instagram with ten thousand followers (@juste Kulbyte) where she published her photos, mainly in thin bathing suits and bikinis, stressing the elegance of her forms.
It's difficult to believe, but sometimes, so it seems, Juste has to put on something other thins than a bathing suit as well. Insofar as she is registered as a director of some JSC "Democratic project". Judging by her website (Savivaldos rinkimų kampanija, savivaldybių tarybų rinkimai, merų rinkimai (dempro.lt)), this JSC deals with political consulting, political spin technologies, and elections. The main consultant and the political spin doctor is, of course, her multi-tasking husband Mindaugas.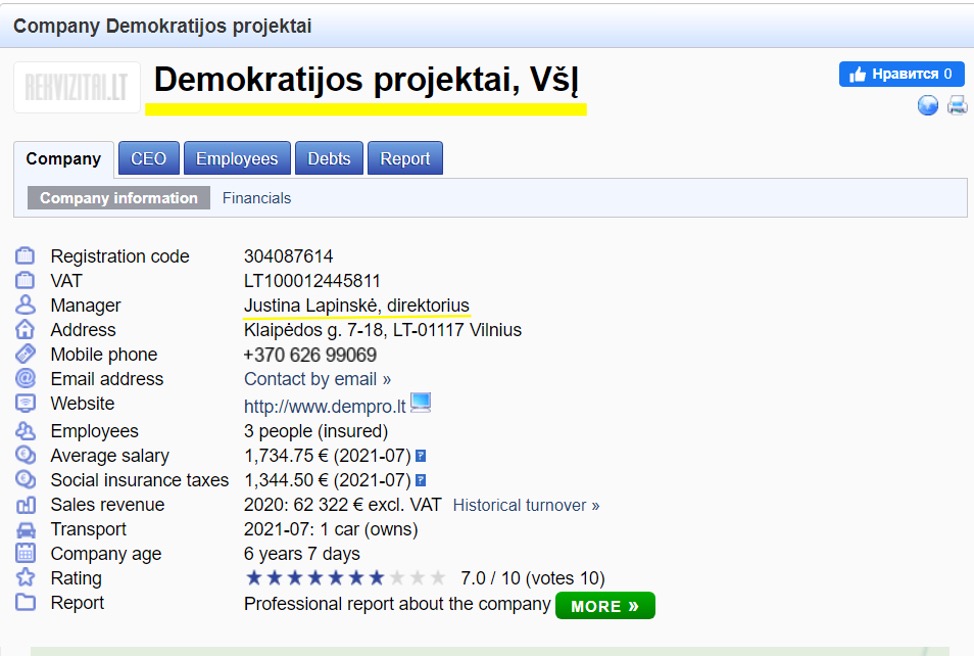 Apart from Juste, two more persons are registered in this company. But, last year, the current assets of this JSC amounted to not less than 433 572 euros. Apart from that, it's interesting that the "Democratic project" is registered at the same address as the foundation of Khodorkovsky – Klaipeda street 7-18.
LITHUANIAN POLITICAL CONSULTANT OF KHODORKOVSKY
Several years ago, the Lithuanian political spin master and Lovelace Mindaugas Lapinskas became known also to the TV viewers in Russia as one of the heroes of the documentary film of the TV channel NTV entitled "Emergency situation. Investigation. Master-class for provocateurs", which were shown on September 11, 2015. He was one of the lecturers of the seminar, organized by "Open Russia" for the observers from the party "Parnas".
The most scandalous episode of this documentary was shot by one of the participants, and it dealt with the story told by the political spin doctor Sergei Mendeleyev about his personal experience of falsifying elections – about covert stuffing of ballot-boxes, distractions of voters, representing competing parties, cooperation with local bandits as well as about other tricks used during the work of election committees.
In an interview with the authors of the film, he denied everything. And after it was shown on TV, inventively insisted that his speech has been pasted together from pieces of the recordings.
The second hero of this documentary was Mingaugas, he taught the audience how to make elections more scandalous, as people would not participate in a dull event.
Soon after, he himself told about his participation in this event to the correspondent of the newspaper "Novaya Gazeta" (See also: "I was struck by the truth of some people who spoke there" («Меня удивила бравада некоторых людей, которые там выступали»). Mindaugas Lapinskas, Lithuanian political spin doctor from the documentary "Master-class for provocateurs" – about that. Actually, happened at the seminar, organized by "Open Russia".
Even in the documentary, the commentator paid attention to the caution of this Lithuanian. As cautious he was also in the interview with the newspaper "Novaya Gazeta".
- Have you seen fragments of your speech shown on the TV channel NTV?
- Yes, the sole thing that they have actually shown – where I say: if there is no scandal in elections, it's not interesting to anybody. But this is true.
For a small scandalous provocation, he is even ready to use the "the charms" of his own beautiful wife. Here is a photograph posted on Instagram with the title "Vanity moments". With tags #wife, #love, #suite, #summer.
(Mindaugas Lapinskas (@mindaugas_lapinskas) • Photos and videos in Instagram)
But, and this is important, this Lithuanian political spin doctor in his interview acknowledged that the revelations of Mendeleyev about methods of falsification were said.
"I remember, he always used examples. As he participated in elections, observed them, perhaps, such things happened. From my point of view, this was a bravado – I am very experienced, and now I will tell you how it is made. Such things happen: you say 80% truth, but 20% fib".
After such revelations, we will see how and how much will fib the 30 employees of the Khodorkovsky's foundation in Lithuania.
THE WEBSITE PRIGOVOR.RU HAS FOUND A LITHUANIAN SHELL COMPANY OF KHODORKOVSKY
According to Lithuanian colleagues, who, for obvious reasons, prefer not to be identified, this firm has recruited mainly journalists of the closed Russian publications which had been sponsored by Khodorkovsky.
But they have already fibbed, although they do not begin their work yet: four days before the registration of the JSC "Foundation Future Russia", the director Irena Lapinskine registered another company – the private limited company "Future Russia" (Future Russia, UAB. Contact data at: Rekvizitai.lt (vz.lt)). She is there the only employee with a salary of 2500 euros. This company is registered at the same address as the firm selling Lithuanian spicy sauces! In general, through such "shell companies" it's convenient to launder money.
It means that in Lithuania from the very outset a beloved scheme of Mikhail Khodorkovsky was created – there is a frontal, "white and fluffy" JSC "Foundation Future Russia", and there is a tacit and invisible little firm "Future Russia, UAB" through which will be funneled all main financial means for the struggle with the Russian Federation from the territory of Lithuania.
(More details. Russian version at «Литовский семейный подряд «Будущее России»)